"This piece is the prime talking point in our entry. The detail and likeness of each artist is just pure perfection"
Tina W
How freakin hot was 80's rock/metal!
This painting is straight from the heart
Order BEFORE Nov 30 for Christmas deliveries - Limited stock available - Back orders available for delivery early Jan 2024
Product Specifications
Framed canvas comes ready to hang

Stretched Polyester/Cotton Canvas

Canvas features UV and waterproof protection, ensuring its durability and long-lasting quality

Canvas stretched tightly over a solid timber frame and mounted in a solid black frame (see photos above)

Canvas material measures - 140 cm x 70cm

The Outer Frame measures - 143.50cm x 74cm x 7cm

Includes an A4 print listing the people featured in the painting
Other size Options are available
Rolled canvas options available (delivered in a tube) - this allows you the freedom to frame it to your preference.
For Enquiries, contact Dean or Mary on +61410555841 or contact@deanturnerart.com
Our Guarantee
All our products come with a 100% money-back guarantee

Featuring Fully insured delivery for peace of mind


Dean was working on the Visual Art for the Baz Luhrmann's film 'Elvis' (2022), where he was inspired by an old Petrol/General store he painted onset. He used the same style of store in a desert highway scene as inspiration for this painting.
The Charger was a car his band member drove when they were in Aussie band, 'Kings of the Sun' (Dean on Bass), and he just loves the Triumph and Indian.  Finally, ZZ Top's Ford was a must for this painting.
The bands (AC/DC, Guns N Roses, Motorhead, Metallica, Led Zepplin, Black Sabbath, Motley Crue, Aerosmith, ZZ Top and Van Halen) are his personal inspirations in those early years.  Due to space issues, there are so many more that he would love to have added, but it would have crowded the picture. (See the 'Who's Who' listing image for everyones name/band)
From the development of the first idea to the completion of this painting took nearly 18 months.  It's a pain staking task to compose a painting like this.  Initial composition can take 6 months of placing people, moving, removing and finding the right energy for the final image - and that's before the painting even starts.
The original is painted on a 3m x 1.5m canvas that Dean hangs in his dining room wall to allow him to work on it between his other commitments.
SHIPPING
WORLD WIDE - FREE SHIPPING!!!

100% Insured and Guaranteed shipping

We ensure our packaging protects your product and we back it with our 100% SATISFACTION GUARANTEE
Our primary goal is to deliver your artwork safely so you can enjoy it. If your order arrives damaged, please contact us and we will take care of it for you. You do not need to worry.




NATIONAL SHIPPING - All orders are dispatched from our home on the Gold Coast - Australia. Shipping within Australia is generally 3-5 business days for delivery from our door to yours. You will receive tracking, via the email you provided, once your order has been booked for collection through our shipping agents 'Interparcel'. On the morning of delivery you will receive a text message giving you the heads up that you will expect delivery that day. If no one is home, they have authority to leave in a safe place.

PLEASE NOTE- Our shipping carriers DO NOT deliver to P.O. BOX addresses. Please provide an alternative address.
INTERNATIONAL SHIPPING - Pre-covid, we offered a 10-day guaranteed worldwide delivery. Until global shipping conditions return to normal all shipping internationally is roughly a 2-4 week shipping schedule. You will not automatically be sent tracking details for international orders. Please feel free to contact us 2 weeks after ordering and we will be able to provide you with your tracking details.




Please always feel free to contact Dean or Mary with any product or tracking queries

contact@deanturnerart.com or PH: +61410555841
RETURNS
If for any reason you are not satisfied, we will do what is required to make it right. That's our guarantee!! Please contact Dean or Mary contact@deanturnerart.com or PH: +61410555841
The Highway to Hell Creation story.....
After completing the 'Ultimate Gangster Reunion' in late 2020, Dean was on a roll...
He jumped straight onto putting the concept drawing together for what was later titled 'Highway to Hell'.
He had just finished the Baz Luhrmann movie 'Elvis' where he worked as a visual artist on the set, and he was pumped to keep his artistic juices flowing.
The background concept for this painting came together when he stood back and took a photo of one of the set designs he painted from the 'Elvis' movie (the start of the movie had featured these old run down looking shacks when Elvis grew up singing Gospel music).
He came home to his wife that day saying 'I'm going to use this photo in my next painting".... he was moved by the photo he had taken. Alongside that he always has had an interest in the visuals of American Desert Highways - Route 66.
He continued to work on the concept of this painting on and off for a year, in between painting murals, and helping his wife with their 5 Kids!!
The Highway to Hell would have to be one of his personal favourite masterpieces. As a muso for many years, this collaboration of mainly 80's rockers had inspired him for decades. He really enjoyed painting this one. It's his cup of tea!
When he finally put paint brush to canvas in early 2022, he spent roughly 7mths painting this masterpiece.
He painted it from his living room wall on a 3mx1.5m canvas, using only acrylic paint and his brushes.
This piece certainly captures an era in the music world which any 50yr old would understand and relate to.
As a personal favourite Dean hopes you too can get the same enjoyment from a walk down this memory lane.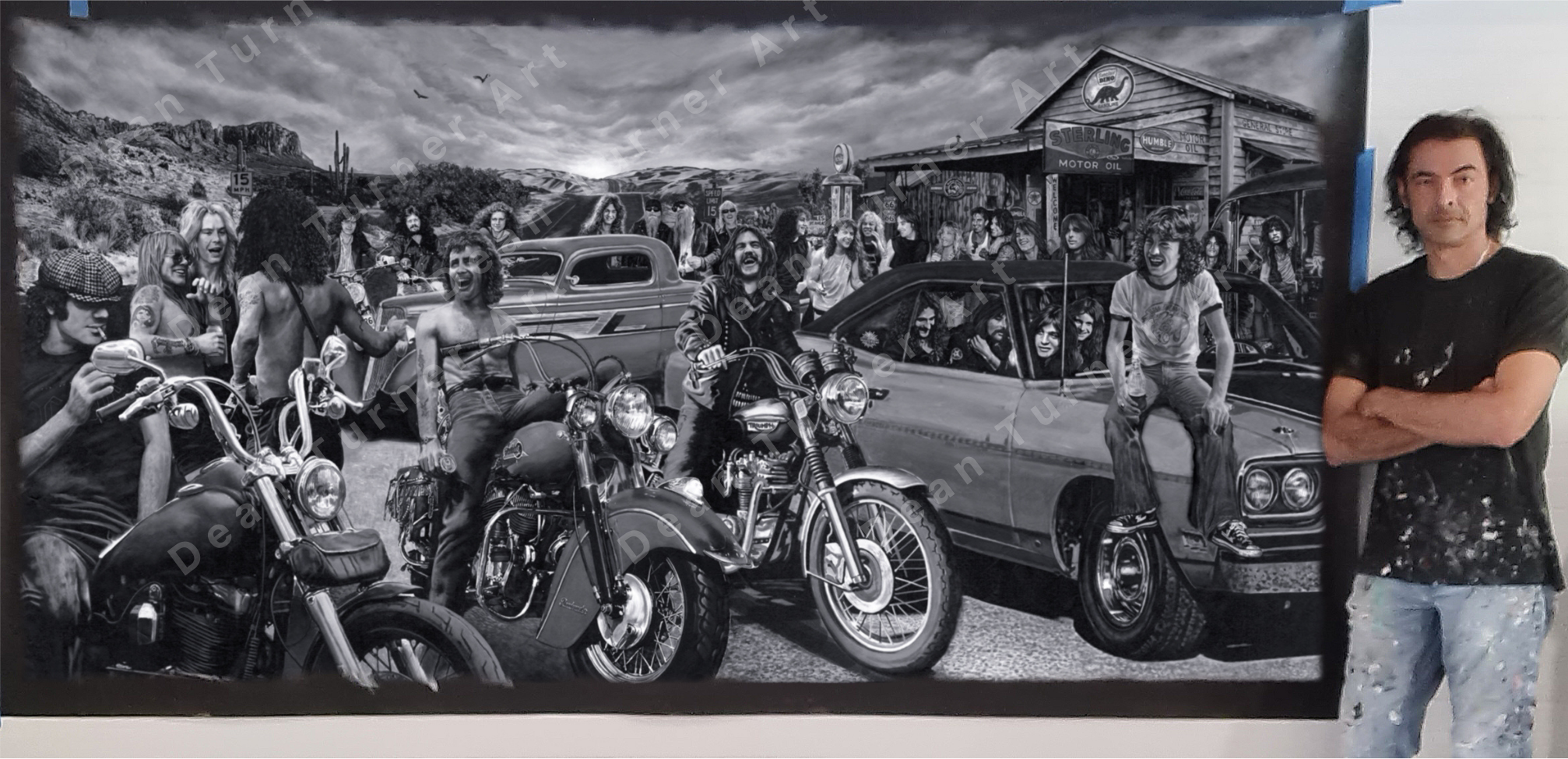 "Your satisfaction is my Guarantee" - Dean Turner
I personally know buying online is tricky - particularly from a person or business you have never dealt with before. I have delivered many of my canvases all over the world since 2017 and want to assure you that you are in good hands.
I will always act with the utmost integrity and I take pride in my after-sale service. It's my name on each and every canvas, and even one dissatisfied customer is not acceptable to me.
Please see my customer reviews or reach out with any questions.